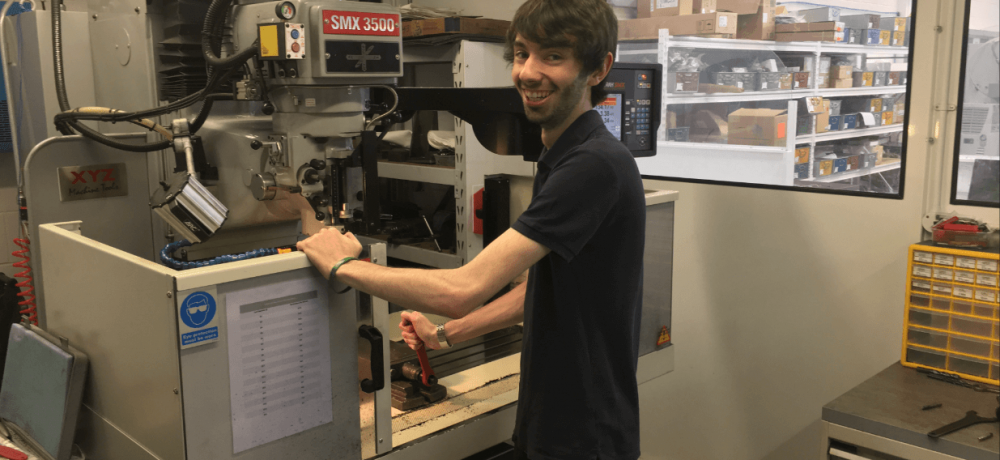 There's been a great deal of talk in the engineering community recently about the need to bring in more apprentices to help fill the skills gap and ensure a strong future workforce for all UK engineering sectors. At E-Tech, like many other companies, we have realised how important it is to train the next generation now while we still have the experience available, so two years ago we took on our first apprentice, Connor.
Connor joined us in August 2015, and from the first round of interviews, we knew he was an ideal fit for our workplace. A little over two and a half years into his apprenticeship (which spans 4 years in total), Connor has shown a great attitude to the work and is cementing those invaluable skills for his future as a machine tool technician.
Working on a range of practical engineering tasks to develop all-round machining and engineering knowledge, Connor has set to work on machine builds, component manufacture and parts modification (to name just a few of the skills he's been developing!) Having recently been tasked with his first solo machine build, he's really coming into his own as a fully-fledged mechanical technician.
When asked what he enjoys most about working at E-Tech, Connor said: "I like the fact that here I'm a name, not a number. Everyone knows each other, and I feel like I'm part of the company; it's a really personal working environment. It's a great place to work and learn the skills of precision engineering with my supervisor Brian."
In his role as supervisor, we spoke to Brian to find out more about what he's been working on with Connor. "We're grounding Connor's general engineering knowledge, making sure he's got a really broad background, so he'll be able to tackle a large range of projects in the future. We're focused on building him up to be a top-quality mechanical engineer to continue delivering E-Tech's brilliant service."
Once Connor is a fully-trained machine tool technician, he'll be a key member of staff supporting the upkeep of our machines all over the world. He'll have the opportunity to travel to places such as the United States, China, Germany, Taiwan, Brazil and more.
Taking on apprentices is becoming vital to many engineering companies, and we believe there is no better way to learn the practical skills of the industry than first hand, from experienced mentors and colleagues. We're delighted to be supporting the future of engineering whilst ensuring E-Tech has the skills we need to continue providing excellent products and services for years to come.
To find out more about our products and services, please visit our website https://www.e-tech.co.uk/, or alternatively contact us via https://www.e-tech.co.uk/contact-us/